WARNING RE 'KNOCKOFF' COPIES OF OUR GORILLA GRIPPERS:
China-made counterfeit copies are being sold on Amazon and eBay! They not only violate our patents, trademark and copyrights by claiming to be 'Gorilla Grippers' and even using photos of our products, but they are inferior in quality, durability and warranty. We're taking action against companies distributing them, but in the meantime they have duped many innocent, unsuspecting buyers…so for your own benefit make sure you're getting authentic Gorilla Grippers from an authorized distributor of ours or directly from us.
100% Secure >

 Payments
100% Money-Back GUARANTEE
Delivered in 5-15 Business Days.
Made in the USA: Fort Collins, Colorado & Mattoon, Illinois
Powerful Like a Superhero!
Do you struggle a lot when lifting heavy objects? You don't have to worry about this anymore! With the Gorilla Gripper, you can now carry large and weighty materials like panels of plywood, drywall, and sheet metal with surprising ease.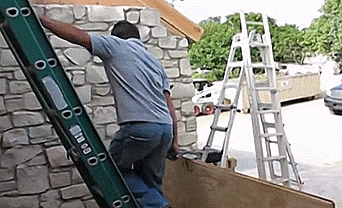 It conveniently offers a handy carrying handle that lets you easily move it around to your side.
The device will continue to grip the panel until you lower it to the ground, which is when it releases its grip to help reduce strained muscles and potential injuries.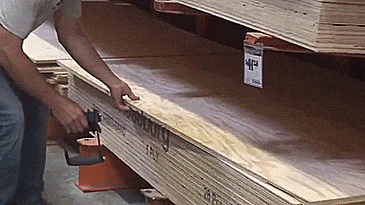 Size 185*125*130mm/7.28*4.92*5.12 Max open width:130mm Features • Solve the problem of big template difficult to handle • Automatic clamping
Features & Benefits: 
Never fall: continue to grip the panel up to 100 lbs until you lower it to the ground, which is when releasing its grip
Protect thoroughly: special rubber gripping pads mounted on both plates protect the surfaces of the materials from being damaged or marred
Ergonomic design: allow one person to carry heavy panels from the top with one hand only
Prevent injuries: greatly reduce the risk of injuries to the back, neck, shoulders, arms, and hands
Equipped 
with a soft handle
to relieve the hand pressure.

Allow the user to lift and move such materials with a straight back, eliminating the need for bending over.

Work great both on the job site and while just picking up the slabs of material at home or the store.

Not only ideal for wood panels, but also for drywall, metal sheets, glass panels, and materials that are awkwardly shaped or too long to carry by just one person.
Package Includes: 1x Gorilla Gripper